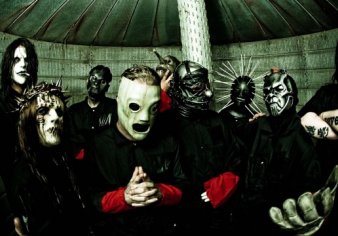 nu metal, metal, heavy metal
Soy fan
Slipknot
es procedente de Estados Unidos, y fue formada en el año 1995. Sus componentes son Corey Taylor, Chris Fehn, Mick Thomson, Craig Jones, Michael Shawn Crahan, Donnie Steele, Sid Wilson, James Root. Su estilo está caracterizado como
nu metal, metal, heavy metal, nu-metal, rock.
The American heavy metal Slipknot has become a staple on the music scene since it's forming in 1995. Hailing from Des Moines, Iowa the group became famous for its unique style of heavy metal music. Some considered the band a contemporary of bands like Pantera, Biohazard and Prong. Slipknot, however, rejects this designation and self labels their style of music as simply "metal". Part of what drew attention to the band was their decision to conceal their identities by donning masks for their concert performances. According to band members this was not intended as a "gimmick" but to allow them to totally immerse themselves in the music. In 1999 their first studio album, Slipknot, was released. That same year the band toured with Ozzfest, a traveling festival tour of several heavy metal bands. This helped to propel the bands first album to platinum status, a first for the record label Roadrunner Records. A home-made music video was also released entitled "Welcome To Our Neighborhood". Today, after the release of four studio albums Slipknot may be ready for another comeback. While dealing with several members unsure of returning to the band they were able to participate in a small performance in Europe. Along with heavy-metal icons like Iron maiden and Metallica, Slipknot headlined Belgium's Graspop Metal Meeting. Slipknot has several music videos out that can be viewed at:http://www.youtube.com/watch?v=Wws7mnMewPw.
Leer más
Entradas Slipknot 2014
Lo sentimos, no hay conciertos de Slipknot ahora mismo. Haciendo click en los enlaces inferiores podrás recibir alertas de Slipknot por email cuando tengamos conciertos de Slipknot, o pedir conciertos de Slipknot en tu ciudad
Últimas noticias de Slipknot
Últimas noticias de Slipknot , rumores y confirmaciones del cartel
05 sep 2012

Por sorpresa, encontramos a destacados nombres del punk rock como Bad Religion, del heavy metal Soulfly y los veteranos ...

10 abr 2012

¿Tienes en mente realizar un viaje los próximos meses a Canadá? si es así no te pierdas esta completa guía de festi...
Comentarios